Folded Birch Bark Tray
Simple, Practical and easy to make...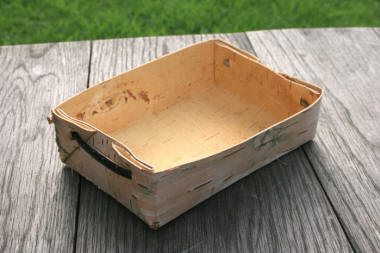 A rectangle of bark folded in a few places and held in shape with a couple of pegs is all that's involved in making these nifty little trays.
I always prefer to use bark stripped from fresh logs for these kinds of crafts; the bark is much more durable and flexible. I personally harvest my bark in the summer months from naturally fallen trees or timber left by forestry operations. You may need to inspect several logs before finding suitable bark as the quality does vary.
Just out of interest, it is a myth that stripping the outer bark from a living Birch tree will kill it. As long as the inner bark is not damaged the tree will continue to live. The Birch will actually re-grow its outer bark over the course of a few years. Although stripping bark in this way is possible and commonly practiced in more Northern countries; it would most certainly be viewed as vandalism here in the UK.